In 2004, Manny made many guest appearances with his men's fitness demonstration within the Florida NPC Bodybuilding and Fitness circuit. Manny also competed in the Keno Jewelers Duathlon series, a triathlon sprint, his first Adventure Race, and repeated his win in the 2004 Ultimate Athlete Competition.
In July 2006, at the Southern States Bodybuilding, Fitness and Figure competition held at the War Memorial Auditorium in Fort Lauderdale, Florida, Manny was the recipient of the Gene Massey Award. The Gene Massey Award is presented to the person who best personifies Gene Massey's accomplishments, including being Florida's number one bodybuilder, being ranked top 10 in the country, running his own gym, promoting contests, and being involved in the governing association of the sport.
Manny, inspired to be the best, has pursued his education with additional certifications from the NSCA (National Strength & Conditioning Association) and the ACSM (American College of Sports Medicine). These are the two most prestigious qualifications that a personal fitness/athletic trainer can have.
Manny has a physical presence and charisma that have a positive impact on everyone around him. He was gifted with undeniable physical and spiritual talents that have ensured his success in business endeavors and have made him a role model to those he coaches. Some of his other fitness accomplishments include the following:
2016-2021 Spartan Races, Duathlons, and 5Ks 
2015 – Miami Spartan Sprint – 5th Place overall 2nd in masters
2014 – Miami Battle Frog Obstacle Course Race – 7th overall
2013 – Naples Daily News ½ Marathon 1:28:43
– Georgia Sprint Spartan Race – 15th Overall (Out of 7,000) 46:18
– Florida Super Spartan – 1:34:22
2012 – 9th Place overall out of 13,000 participants in Super Spartan 9-mile obstacle course race
Tough Mudder Tampa and NJ team races – 11+ mile obstacle course events
Warrior Dash Michigan 3.2 mile obstacle course event
2nd Place overall in 4-race duathlon series (1 mile run, 10 mile bike ride, 5K run)
3rd Place overall in a 5K with time of 17:50
Naples Daily News ½ Marathon first-timer 1:30:33 2011 – Tough Mudder Tampa – 11+ mile obstacle course race
2006 – 1st Place Florida Ultimate Athlete Competition
2004 – 1st Place Florida Ultimate Athlete Competition
2003 – 1st Place Florida Ultimate Athlete Competition
2002 – 1st Place Florida Gold's Gym Ultimate Athlete Competition
2001 – 1st Place Florida Ultimate Athlete Competition
2000 – 1st Place Florida UltimateAthlete Competition
1999 – 4th Place Florida Ultimate Athlete Competition
 American College of Sports Medicine (ACSM)
National Strength and Conditioning Association (NSCA)
Fitness Institute International Inc. (CPTS)]
Certified Personal Training Specialist
Fitness Instructor Training
Fitness Testing Specialist
Strength and Conditioning Specialist
Weight Management Specialist
Functional Training Specialist
American Council on Exercise (ACE)
U.S.A. Track and Field (USATF)
U.S.A . Olympic Weight Training (USAW)
D.P.T's: Pre/Postnatal & Menopausal Certification National Physique Committee (Promoter) CPR, AED and First Aid
National Physique Committee (Promoter) CPR, AED and First Aid
Manny started One To One Fitness, a personal training fitness studio, 26 years ago in Fort Lauderdale, Florida. Since then, his most important goal has been to maintain the highest standards a fitness training studio can have in the personal training industry. His mission as a personal trainer is to motivate each client and make them accountable with knowledgeable training to achieve their health and fitness goals.
For many years, Manny has made contributions to his favorite charity, Kids in Distress. They were founded in Fort Lauderdale in 1976 to help children in situations of abuse, neglect, and abandonment. 
Doris Porter, a client, and her family introduced Manny to this charity and recruited him to aid with operations and security for the Andy Roddick Foundation Annual Charity and Deidra Downs (Miss America). 
Manny then created his own fundraising events for Kids in Distress. The events include field days and parties in his gym, One To One Fitness. It is a great time with food, rock climbing, swimming, a bounce house, music, raffles, T-shirts give-away, face painting, and much more. One To One Fitness has raised over $110,000 for Kids in Distress along with toys and other necessities.
Manny's annual Soldier Rush obstacle course event also raises money for veterans and encourages the community to come together in a patriotic and challenging way.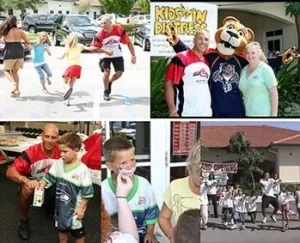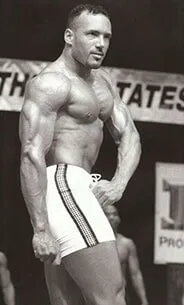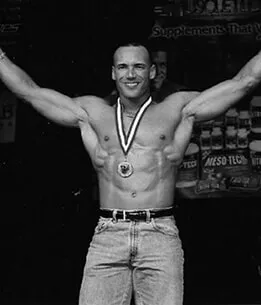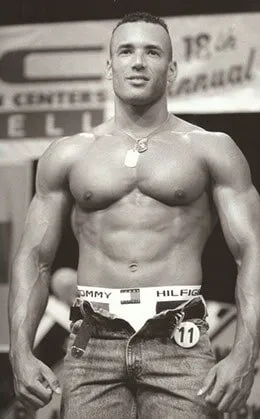 PERSONAL TRAINING - PROFESSIONAL ATHLETES
Currently, Manny is preparing Arthur Kaliyev of the LA Kings for the upcoming season of the NHL. 
Manny has also trained Roberto Luongo for his second season after returning to the Florida Panthers. They have been training together for over twelve years since meeting during the 2004 NHL lockout. Manny's grateful to work with an athlete with such skill and character. Roberto has been a great sport by offering to take pictures and sign autographs for the other clients in the gym and has helped with his generous donations of hockey memorabilia each year for One To One Fitness fundraising events. It is always a pleasure and an honor to take on the challenge of being a part of keeping the #1 players in the NHL on top of their game. 
Manny also has the honor of working with Olli Jokinen who was a teammate of Roberto Luongo's when they took no prisoners on the New York Islanders and the Florida Panthers. Olli Jokinen was the Captain of the Florida Panthers and laid the smackdown on any goalie who stood in front of him. He started training with Manny in 2008 to get ready for the World Championships. Two weeks into the training, Olli was seeing results through his one-on-one work with Manny. He went on to play for the Phoenix Coyotes as a lean, mean, 6% body fat, goal-scoring, fighting machine. Olli since then has commented on an autographed Phoenix Coyotes Jersey saying
 "NOW I KNOW THERE IS ANOTHER LEVEL".
In an efficient manner, Manny has helped several professional athletes achieve great results. These athletes include but are not limited to Dmitri Kulikov (Defenseman for the NHL Florida Panthers), who is amazed by such huge results after only a couple of weeks; Angel Berroa (Rookie of the Year and former MBL Infielder with the New York Yankees), who says "Manny is the Best"; Jose Tabata (MLB Outfielder with the Pittsburgh Pirates), who says "This is the best shape he has ever been in". 
The Pirates organization is also very pleased and amazed with the results Manny can achieve for athletes on a physical and mental level. Grant Potter (World Champion Pro Cyclist, both Open and Masters), trains at One to One to get back on the bike and in the water for a Triathlon/Iron Man Circuit. 
Jason Jones (2-time Olympic Sprinter in the 100 and 200-meter sprint) says "I have trained with many people in the past, but I have to keep coming back because nobody else trains like you". 
Hollywood actress Cassie Scerbo says, "Manny Fresh you're the best". 
Other professional, college, and high school athletes whom Manny has trained include Robert Edwards (Miami Dolphins NFL), Terrence Edwards (Atlanta Falcons NFL and now CFL), Alex Jackson & Kareem Marshal (Georgia State Football Bulldogs), Rodney Thomas and Ronnie Thomson (Clemson University Football), Nicole Hage (Auburn University Golf and now professional with the LPGA), as well as David Christianson (Colorado Rockies), Daniel Elorriaga-Matra, Jr. (Douglas H.S. Baseball), Joe Hage, Jr. (Douglas H.S. Baseball) and Anthony Rizzo (Douglas H.S. Baseball).
Three of these young athletes started working with Manny when they were 14 years old and played for Marjory Stoneman Douglas High School. Through their efforts with Manny and on their team, they were able to put the Douglas Baseball program on the map. These young men moved on to play in the Minor leagues and Manny continued to work with them to improve strength, speed, resistance, and skill. Years of training and collaboration with Manny helped Anthony Rizzo level up to the MLB; he now plays for the Chicago Cubs!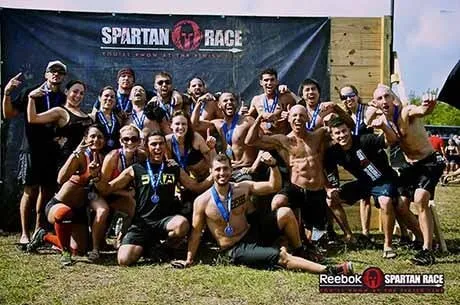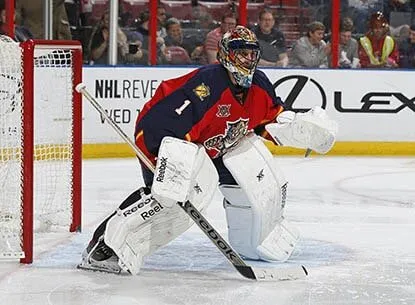 Roberto L. / NHL Florida Panther / Goalie #1
"Manny: I would like to thank you for showing me a different approach to my strength and endurance training, and most of all for helping me to improve my diet. During the summer of 2003 I decided to take a chance at working with you based on your background as a competitive athlete and a creditable trainer and I have been very happy with that decision.
One of my biggest problems as a professional athlete was losing weight and experiencing early fatigue during the NHL season. Also, after several weeks of an intense game schedule and traveling 2 to 4 times a week it was hard to maintain peek performance all season.
After training with you, during the 2003/ 2004 season I was able to maintain my body weight of 208 lbs and played at peek performance all game and for months at a time without having to take a break. I was given the title of NHL Florida Panther player of the year, best average game saves and nominated for the Vezina trophy along with 2 other NHL goalies for best goalie in the league. I enjoyed working with you during the off season and look forward to taking my game to the next level doing my job as a Florida Panther, breaking new records, and becoming NHL goalie of the year.
Thank you"
Roberto L. / NHL Florida Panther / Goalie #1